Marketing Tips: How to plan 1 month's marketing calendar in 1 Hour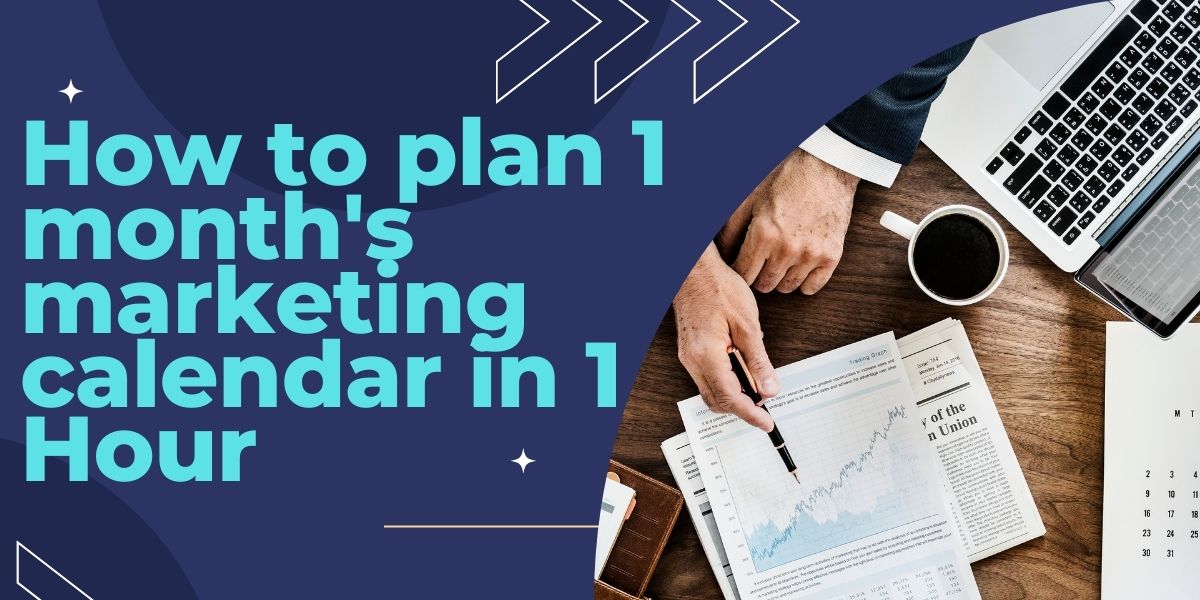 To keep organized and on top of your marketing initiatives, a marketing calendar is a must-have tool for anyone engaging in marketing strategies. However, if you don't know how to plan a marketing calendar, you may not be able to get the most out of it. You can develop a calendar with our guide to help your business grow.
Learn why you need a marketing calendar and how to get started in eight simple steps by reading on. 
What is the purpose of a marketing calendar?
A marketing calendar may seem unnecessary, yet it serves an important purpose. Marketing calendars are essential to your business' success for these three reasons.
1. It helps you keep track of everything
Marketing calendar planning is essential because it will help you stay on track with your marketing efforts. It's easy to get lost or confused when operating many campaigns simultaneously. You must employ a marketing calendar if you want a well-coordinated marketing effort.
You can use a marketing calendar to track when you post content, tweet, or email your customers. It allows you to track when campaigns are launched, and your customers are using them. Marketing campaigns are easier to plan when you clearly understand what you're doing.
2. Consistency is another benefit
With a digital marketing calendar, you can ensure the consistency of your brand. Consistency in marketing tactics is key, and a marketing calendar is a terrific tool for keeping track of all your campaigns. In marketing, consistency is important because it aids in the recall of your brand.
Consistent content increases your audience's awareness of your brand and their likelihood of recalling your firm. Your audience will recognize your brand if you post frequently, and a digital marketing calendar will help you remain on top of that by keeping you organized.
3. Aids in the development of more cohesive campaigns
You want your many marketing strategies to flow together. There should be synergy between the campaigns you use for social media and email marketing. To better understand how your campaigns function together, using a marketing calendar to handle several programs is vital.
To top it all off, the information obtained from the data will aid in developing your campaigns and help them operate better together for success.
Calendar planning: how to do it right?
Are you ready to discover how to put together a marketing calendar? Get started by following these eight simple steps!
Step 1: Decide where you want your calendar to live
Choosing a location for your marketing calendar is the first step. It's preferable to use an electronic calendar, even if you have the option of doing it manually. Creating an electronic version will take less time, and there is less risk of it being lost or destroyed.
Share an electronic copy with employees on different teams if you like. To construct your marketing calendar, there are various options:
You can choose between Excel and Word in Microsoft Office

Using Google docs

Calendar-specific software
Ultimately, you'll have to decide which choice is best for your business. It is generally recommended that you make use of Google Sheets. This is especially important with numerous employees working on the calendar and needing to access it from different locations.
Step 2: Set Goals
You must establish your objectives before focusing on the details of your calendar. So that you know where you're going, it's important to set goals. To get the most out of your campaigns, you need to focus on what you want to accomplish.
You can define goals that are specific to:
Getting new customers

Acquiring customers

Increasing the reach of your brand
Your scheduling and investment decisions will be easier if you have a clear picture of your goals.
Step 3: Find out how you're going to advertise yourself
Identifying your marketing tactics is the next stage in creating a marketing calendar. A marketing calendar is useless if you don't know what tactics you're planning to use. The following are some of the most frequent digital marketing strategies:
PPC (pay-per-click) marketing:
The top of the search results is where PPC adverts appear, which are paid advertisements that appear above organic results. Your marketing calendar can schedule advertisements for specific items or services based on this technique.
Utilizing email for promotional purposes:
As a part of your email marketing plan, you can send personalized emails straight to your subscribers. Sending emails at specific times, such as at the launch of a new product or a sale, might help you reach your target audience more effectively.
Online promotion through the use of social media platforms:
You may use social media to promote your business by developing and disseminating content. Planning when to post content on social media platforms like Facebook and Twitter is much easier when you have a digital marketing calendar.
Promotion through the use of high-quality content:
An important part of the process of content marketing is the creation and distribution of relevant information to your audience. To plan your social media strategy, use a digital marketing calendar.
You'll better know what to include in your marketing calendar once you've determined your marketing techniques.
Step 4: identify your ideal customer profile.
Once you've decided on your strategy, it's time to identify your audience. Knowing who you're trying to reach is critical if you want to execute your approach effectively. You'll need to figure it out if you don't know who your ideal customer is.
Be aware of who visits or purchases from you online. You should seek the following features in your customers:
Age

Gender

Purchasing customs

Interests

Hobbies

Occupation

Inflation rate
You'll have a better idea of who your average customer is if you define these traits. You'll be able to employ tactics that will assist you to get in front of the right people.
Step 5: Create a sales cycle chart
Your marketing calendar can begin to take shape when you've gathered all the necessary components, including your audience, strategy, and goals. The first step in creating a good marketing calendar is to make a chart of your sales cycle. With your 12-month blank calendar in hand, it's time to start tracking your sales cycle in detail.
Regarding the seasonality of your items, you can thank the sales cycle for that. We can use the scenario of selling school backpacks as an example. Even though your products can be purchased anytime, the busiest time of year for your business is shortly before school begins.
As a result, you'll see the most sales of backpacks in the months leading up to the start of school. If your sales cycle undergoes a seasonal shift, you'll want to adjust your marketing efforts to coincide with those times of the year when sales are at their highest. Recognizing seasonal fluctuations in your marketing calendar if you have seasonal products is important.
For example, a sporting goods store may wish to note the time of year when specific sporting goods are required. Observers would point out that baseball and football products are most popular in the months leading up to spring and fall, respectively. Keeping track of this data is essential to plan marketing strategies that coincide with the season.
Step 6: Identifying important dates
A marketing calendar must include important dates to create a marketing strategy. In addition to these dates, there are many others:
Holidays

Your company's accomplishments and milestones

Launch of a new product or services

These are company-sponsored events.
Keeping track of these dates will allow you to plan marketing initiatives for these events. 
Emails were sent daily to loyal clients with a special day deal for specific food products to honor their anniversary. Identifying these days before you begin organizing your marketing tactics on your calendar is vital, so you can organize coinciding campaigns.
Step 7: Determine how long each campaign project will take
What kind of campaigns are you running now that you've figured out what methods to use? Think about the length of time it will take to complete your campaign's tasks as you gather ideas. Proper project planning is important in figuring out how to make a marketing calendar.
You'll need more than a single day to complete most marketing tasks. Every project phase must be planned and recorded on your calendar. Let's take a look at the school bags again.
It is your decision that you want to build an infographic about how to pick the best school bag. You need to consider the amount of time it will take to design this infographic, as well as the amount of time it will take for revisions. Set deadlines for each step of the digital marketing process while planning your calendar.
Setting a deadline for the first round of editing, the second round of editing, and finally, publishing is possible with this infographic. Knowing how the project is progressing will help you better prepare for it and maximize the usage of your marketing calendar for it.
It's never too early to start planning your digital marketing strategy
AE ADS Dubai is here to help you plan and organize your digital marketing calendar. With more than a decade of experience, we know how to assist you to select the best marketing methods and planning your campaigns to maximize their impact.