Importance of SEO in Digital Marketing
Comparable to traditional marketing, the goal of digital marketing is to expand a company's customer base. Brand or product awareness is increased. In addition, it offers digitally-based service options.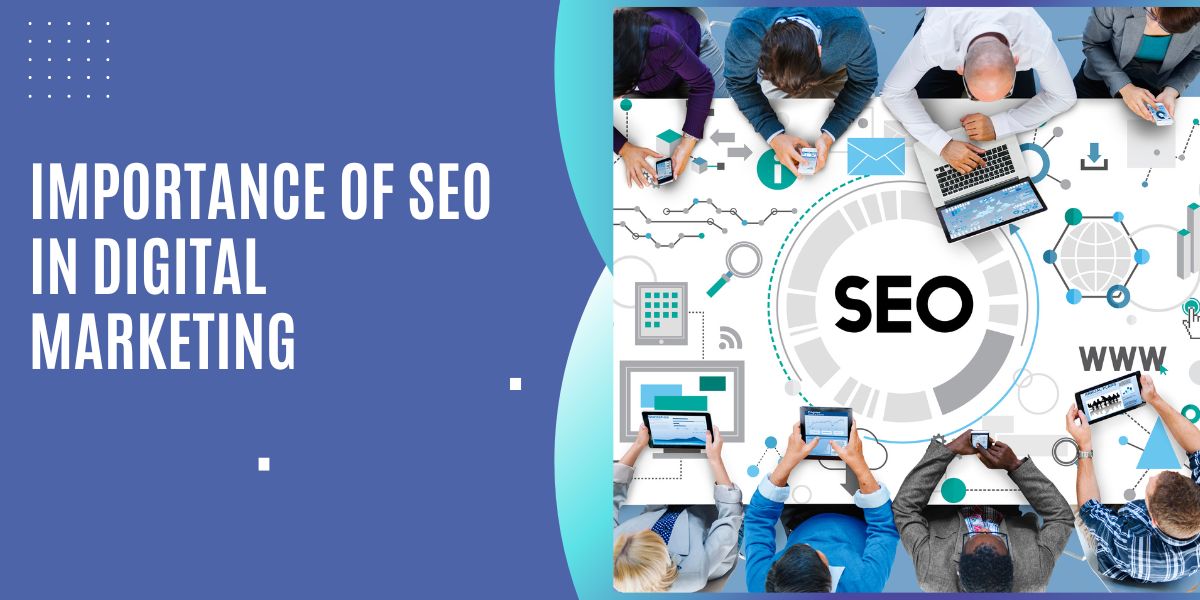 As we progress farther into the digital age, more and more people are leaning toward digital marketing strategies. That's why it's crucial to use cutting-edge advertising strategies and emerge as the industry leader. 
The SEO of a digital marketing website increases its rank in organic search results. It also serves to differentiate the marketing website from others in the same industry. These days, search engine optimization (SEO) strategies can't be ignored by any digital marketing campaign. 
Dubai is home to several well-known businesses, many of which conduct effective digital marketing efforts made possible by the skilled use of search engine optimization techniques. The site's profile is raised dramatically as a result of the boost in visitors and sales that this brings about. A higher-ranked page will receive more visits from users than a lower-ranked page. We'll go over why SEO is so crucial to online marketing campaigns.
What do you mean by Digital Marketing?
Digital marketing is a form of advertising that promotes an online company through the use of digital technologies, to increase the company's visibility and sales. Everything is done using some sort of electronic gadget, be it a phone, tablet, laptop, or other. 
Marketing promotions can take numerous shapes. The list is long, but it includes things like internet videos, social network ads, display ads, and more. Advertisements and marketing on television are not included in the broader category of "digital marketing," in contrast to traditional marketing.
Simply put, Digital Marketing is another name for online advertising. Electronic and online brand promotion is what this term describes when applied to commercially focused brands. Because of this, more people are likely to visit the brand's website and become potential buyers. AE ADS, Dubai is the place to go if you want advice on how to improve your website's traffic.
Search Engine Optimization and Online Promotion
Technically speaking, SEO is more of a marketing tool than a marketing strategy. Attracting a larger audience expands the market for a given brand and increases the likelihood of conversion. 
SEO, or search engine optimization, is the process of enhancing a website's visibility in search engine results. When trying to improve a website's rankings, it's important to keep in mind a few key factors. Such items include,
Mobile-friendliness

User participation intensity

Excellent standard of material presented

Measured by both connection quality and quantity,
Incorporating a variety of techniques, these are some of the components of an SEO strategy:
On-page Optimization is done directly on a page to boost its search engine rankings and visibility.
Off-page SEO, also known as link-building and website marketing. The quality of a website's inbound links has a significant impact on its position in search engine results. It is not recommended to utilize this SEO method to make any modifications to the website.
No hard and fast guideline or measurable standard exists in the field of search engine optimization for raising a website's position in the SERPs. It is extremely difficult to create accurate predictions due to the rapid pace at which Google updates its algorithms. 
According to SafariDigital, the only option is to have individuals who understand SEO variables and can track them well closely monitor the performance of the website and make any necessary adjustments.
Effects of SEO on Digital Marketing
Increases Exposure and Page Rank
By raising the site's position relative to that of competitors, SEO makes it more likely that potential customers will visit the site. On-page SEO and similar methods are used to make websites more accessible to search engines. 
Increases the keyword and Meta keyword density and makes sure the site has all the necessary pages. The number of visitors who visit a website can be increased through the use of search engine optimization. 
Successful SEO companies in Dubai, invest heavily in "on-page optimization" and "keyword research" strategies, which have been shown to provide sustainable development over time. When more people visit a website, it rises in search engine rankings. When a page is popular, it rises in the rankings.
Search engine optimization (SEO) and search engine marketing (SEM) are closely linked. One of the main aims of search engine optimization is to boost traffic to a website. This is accomplished by raising the site's visibility and rating in search engine results. 
Having a high ranking in search engine results is crucial to keeping pace with the competition and this feature guarantees just that.
Adds to One's Credibility
Above all else, a company must earn its clients' trust to succeed. They will trust Google to direct them to the most useful websites. If the website isn't on the top page of Google's search results, users may not consider it credible. 
Search engine rankings are a good indicator of how trustworthy a website is, and visitors tend to place greater faith in those sites that appear higher in organic results. As we've already established, search engine optimization (SEO) boosts a website's visibility and rating by attracting more visitors. It's crucial to the website's credibility and popularity.
Strengthens Content Marketing
SEO strives to improve the quality of the content of a website and the overall user experience. Meaningful, consistent, and interesting content is essential to a winning content strategy. This aids our efforts to reach the intended audience. 
Success for businesses providing SEO services in Dubai hinges on the quality of the material they produce. They monitor the status of the content strategy and make adjustments as needed to make it more effective in light of emerging trends. So long as they keep doing this, they'll be able to keep up with the competition.
Gives the User a More Fulfilled Experience
Improved website responsiveness is one of the many benefits of search engine optimization. These days, two seconds is the absolute minimum that users will endure while waiting for a website to load. When a page takes too long to load, its conversion rate drops. 
If a page can load faster, visitors are more likely to stick around after they arrive there. Search engine optimization (SEO) ensures that a site is fully responsive and usable across all devices, from smartphones and tablets to desktop and laptop computers.
Conclusion
The end purpose of search engine optimization is to assist the page to achieve its commercial objectives. Facilitates improved connections with customers. Raising the page's profile builds credibility with visitors, which in turn increases the site's traffic. Increased sales and expansion are the results of the improved conversion rates achieved by this method. 
As a result, search engine optimization (SEO) is crucial to the success of any digital marketing strategy, and if you're based in Dubai, you'll find that many agencies offer SEO services.