The metaverse: A new virtual world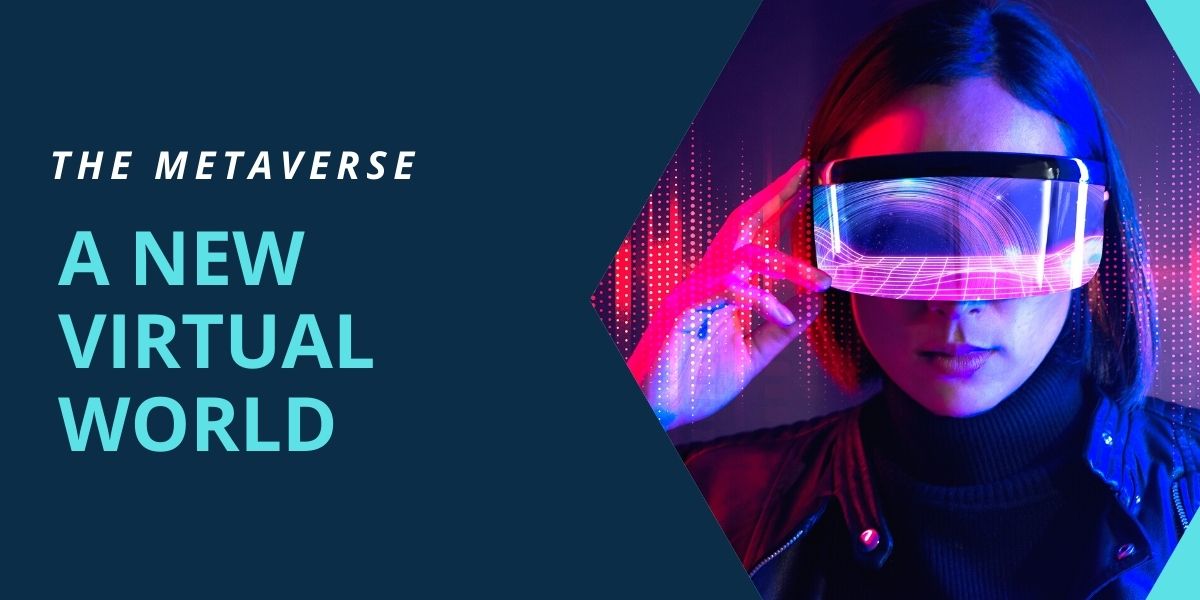 We are living at the dawn of the metaverse era, which will change the face of media, academics, the economy, and more.
When asked to define the metaverse, what do they mean?
Much to the early days of the internet in the mid-1990s, the metaverse is still in its infancy. Perhaps it will come as a surprise to learn that the best description of the metaverse was made before anyone had any idea what it was.
The Metaverse Roadmap, published in 2008 by the Acceleration Studies Foundation, classifies the metaverse into four basic categories:
A flawless virtual world with an engaging narrative.

In a mirror universe, everything looks the same as it does now.

Using metaverse information to enrich one's view of the physical world.

Keeping track of the people and things that make up one's daily life is the goal of a practice known as "lifelogging."
Simply put, the metaverse is an online space where users can interact with one another and virtual objects using various technologies such as virtual reality, augmented reality, and artificial intelligence.
 It's possible to do things like bungee jumping over the highest cliff in Queenstown, New Zealand, swimming with Great White sharks in Cape Town, South Africa, and bicycling down Bolivia's Death Road without ever leaving your room. Someday soon, it will allegedly be possible to do anything in the metaverse. When complete, the metaverse will include sensory experiences as authentic as those we have in the real world.
 Author Neal Stephenson coined the word "metaverse" in 1992 with the publication of his science fiction novel Snow Crash. But it wasn't until Facebook became Meta that the idea was debated seriously. Plus, Facebook said it would hire 10,000 people to build out its metaverse; if that isn't the next big thing, then what is it?
The following are only some of the many possible applications of the metaverse
Cryptocurrency-based gaming
Gamers are flocking to the virtual world, or metaverse, to participate in a variety of interactive experiences.
The epidemic of COVID-19 has facilitated the rapid development of metaverse games. The Sandbox, Axie Infinity, Splinterlands, Alien Worlds, Defi Degen Land, and many more are just a few of the most well-known games in the metaverse.
With its innovative combination of Defi and P2E blockchain gaming in the metaverse, GameFi has gained a sizable user base. This environment provides economic rewards and incentives for loyalty and engagement by giving participants a share in the assets they use. As games gain in popularity, the tokens used to power the increase in value, contribute to the overall rise in the cryptocurrency market cap. Microsoft wants to acquire Activision Blizzard for $69 billion, which would be its largest all-cash acquisition to date, to sway skeptical players to give the metaverse a try.
Notably, the metaverse claims to be consoled, which is a huge selling point. For instance, if you purchase an item for your character in one game, you will be able to easily move it to any other games you play.
NFTs
When most people think about NFTs, they imagine digital art or artifacts that may be traded or sold for a lot of money. However, NFTs' greatest exciting potential is in metaverses.
What is an NFT, exactly? An example of a non-fungible token is a piece of artwork, a brand, a photograph, a gaming item, or any other digital asset with evidence of ownership recorded on a blockchain.
Although NFTs are new and have been met with some resistance, the benefits they offer are substantial. Some of them are quite precious since they have unreplicable identification numbers and are typically acquired with bitcoin.
Decentraland is a great illustration of the convergence of NFTs and metaverses because it allows users to buy real estate in the metaverse with LAND tokens. The rights to ownership of an item in the metaverse can be transmitted to another user.
On top of that, NFTs can be used in conjunction with smart contracts to regulate user access to the metaverse. Using NFTs, users' real-world identities can be linked to their digital avatars, allowing them to participate in the metaverse's activities. Access to live events is already a reality thanks to NFT-controlled entry.
Incorporating the many amazing capabilities made possible by blockchain technology, NFTs can be linked to a diverse set of experiences. The metaverse and NFTs were designed to work well together.
Expanding possibilities for online environments
The metaverse is not limited to the virtual world we know today. Social interactions, commercial networks, and the online economy might all undergo radical changes. Even while the metaverse is still in its development, its potential is starting to show.
Virtual property
It may seem weird to possess a property that does not exist. However, a notable example of a user paying $450,000 to be Snoop Dogg's neighbor in The Sandbox indicates individuals will do this.
A fair comparison would be buying a full-page ad in a newspaper or television show. Owning land in a virtual world allows you to do things like run a company, throw events, and even rent it out to others.
Exhibitions of artworks
For instance, Sotheby's recreated its famous New Bond Street Galleries in Decentraland to serve as a venue for auctioning off works of digital NFT art.
Marketing
Nike's metaverse marketing efforts have been superb. Nike land, where players may dress their Roblox avatars in Nike gear, was the first virtual environment created by a big brand.
The acquisition of RTFKT, an NFT startup with an emphasis on collectibles, is part of the company's ongoing digital transformation. Wearables, including NFTs, designed by RTFKT are now available in Decentraland.
As a budding industry, Decentraland Wearables has a tremendous amount of room to expand. At present, 10,262 people hold a total of 71,055 tokens.
Additionally, Adidas has been an early adopter of NFTs. After releasing its debut NFT collection, "Into the Metaverse," in December 2021, the company made $23 million in just a few hours. The shoe company collaborated with Bored Ape Yacht Club, Punks Comics, and GMoney to develop the NFTs. Given how well the initial NFT collection launch went, it's highly improbable that Adidas will do it again.
The same can be said for Samsung Electronics America, which has built a virtual counterpart of its flagship 837 stores in Decentraland, allowing consumers to experiment with the novel possibilities afforded by Samsung technology.
Workplaces that immerse
Some businesses are constructing "virtual offices," expanding the concept beyond the use of software like Zoom and Slack. Binance is one such exchange. The United States is creating a section of Portals, the Solana-based metaverse platform, where users can digitally access real-time data and information.
Using Mesh, Microsoft's platform for creating shared digital experiences, the company plans to add mixed reality support to Microsoft Teams this year. Avatars can be used in their 3D animated form, and this works with or without a virtual reality headset. With Teams, businesses will have the tools necessary to build their metaverses.
Nvidia recently showcased another incredible instance of what virtual interactive sessions in the metaverse can look like. An animated ray-traced version of Nvidia CEO Jensen Huang walked around a virtual area and made various facial expressions in Omniverse, Nvidia's open-source platform for creating virtual environments. The most fascinating aspect, however, was that Jensen wasn't even in charge of it; rather, a conversational AI was answering queries in much the same manner that Huang would if he were talking to himself.
Concerts in virtual worlds
Warner Music Group (WMG) has said that it will be bringing musically oriented attractions to The Sandbox, including performances by the group's artists. To mark the milestone, The Sandbox will be selling "LANDS" in the area immediately surrounding the WMG property in March of 2022.
Live performances by Snoop Dogg in The Sandbox and a multi-day virtual music festival including over 80 performers are just two instances of the first generation of virtual concerts.
You can't get rid of the metaverse. The ongoing digital transition is widely seen as the internet's next major evolutionary step. It paves the way for a future in which nearly all human activity will take place in the virtual world of the metaverse, from socializing and communicating to working together on projects and conducting financial transactions. The transition to a purely digital universe is gaining momentum. Do you like being a part of the digital age?