Top 5 Content Management System Platforms 2022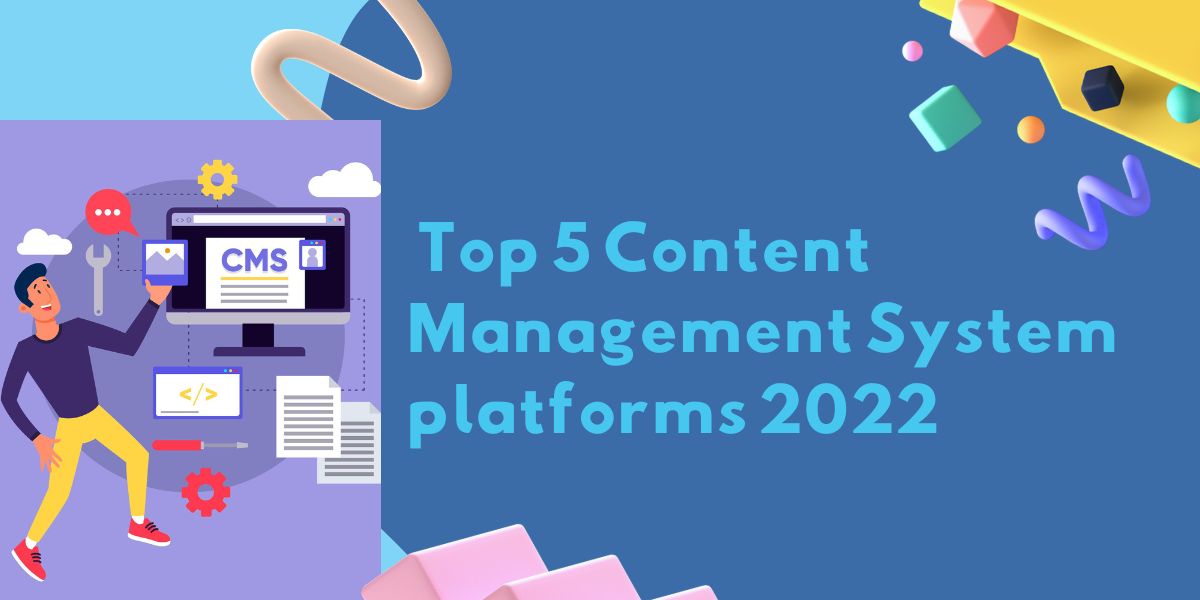 Are you trying to find the most acceptable CMS for your business in Dubai? You are at the right place now. You can quickly and easily incorporate a wide variety of web content with a CMS. An efficient CMS may be your best bet if your site has many contributors. Using CMS platforms is made simpler by the programs' interactive user interfaces. Users of various skill levels will be able to adjust your website's content thanks to this feature. With a simple-to-use CMS, your marketing staff can concentrate on developing content.
What exactly is a CMS Platform?
Create, manage, and optimize your customers' digital experiences with a content management system (CMS). It is possible to create, edit, and publish digital content, such as web pages and blog posts, using a CMS, a piece of software. More than just a tool for delivering digital content, the CMS is evolving into a multichannel platform for controlling the user's online experience across several channels like email, mobile apps, social media, web pages, and more.
It is possible to upload or generate content, format it, add headlines and graphics, and do several back-end operations, such as SEO with basic website content management systems. However, in a multi-device, user-centric environment, that isn't enough. Consumer experience and the usage of mobile apps and the Internet of Things are now at the forefront of digital marketing. A web content management system (CMS) separates content administration from appearance.
What Role Does CMS Play in a Business?
Managing and regularly updating corporate websites is crucial in today's internet-based world. Businesses without in-house developers seek simple solutions that allow anybody to update content while maintaining brand recognition and messaging consistency for potential customers and clients.
Using a CMS, anyone without specialized technical knowledge may edit, manage, and maintain an existing website's content using a single user interface.
Check to see if the web design agency in Dubai is using a mainstream CMS system like WordPress or HubSpot while creating a website. The web design company can make design and layout changes more quickly and affordably, while your employees can make minor content adjustments.
The Top 5 Content Management Systems for 2022
1. WordPress
WordPress is one of the popular open-source content management systems (CMS). A MySQL or MariaDB database is used in conjunction with PHP code. With a plugin architecture and a template system, it's also a highly customizable framework. Themes are reusable design templates that make it easy to update your website's look and add new features. Your small business or non-profit organization can now have an eye-catching website thanks to WordPress's growth in popularity.
WordPress's main selling point is how easy it is to set up and operate. You may quickly and easily make changes to your website using WordPress's built-in editing tools. It's easy to use, so you don't have to be an expert programmer to utilize it. To further personalize your website, you can use the widgets and plug-ins available through this platform. As a result, it's a fantastic solution for small and midsize business sites and larger projects.
2. The HubSpot Content Management System
Create a website that combines the advantages of HubSpot CRM with the flexibility of your website to maximize your online efforts. HubSpot's content management system (CMS) makes it simple to build a website, even if you have no prior coding experience. This tool is ideal for those who need help organizing their contacts, information, and social media accounts. Additionally, it will enhance the usability of your site. Third-party apps can easily integrate with CMS Hub. Third-party applications can also be combined with CMS Hub.
HubSpot's CMS Hub To cooperate with other partners and make updates to the site without the need for developers, HubSpot CMS Hub is linked to the ecosystem as a whole. Your material can be easily managed using the CMS Hub's numerous capabilities. Changing the theme of your site will allow you to alter its appearance at any time, and adequate security measures will keep visitors secure while they browse. After making your modifications, you can even establish a domain name that is unique to you, allowing for the operation of many domains.
3. Wix
Founded in 2006, Wix is a web-based website builder. You can take a look at their website design tools. Your website can be hosted on Wix, as well. With its drag-and-and-drop features, you can create mobile sites or HTML5 websites. Programmers can construct web apps with Wix, but the platform may be used by anyone who isn't an expert in coding. You'll need a license if you wish to use Wix with your private domain name.
It is a user-friendly interface that allows you to quickly and easily create web pages. You can design the perfect website using scale, aligning, and formatting settings. Objects can be dragged and dropped anywhere on the Wix website with the help of the platform's instrument bar. No matter your programming skills, the template is editable. Create a few different drafts of your website, then pick the one you like most and fill it with content.
4. Shopify
Shopify is a Canadian e-commerce platform. It allows you to set up a retail system. There are more than 2,000 customers on Shopify, which started in 2006. Internet retailers and others can use it as a one-stop shop.
The cost of using Shopify is based on the features that you want to include on your site. There's no need to pay for hosting if you're using the program's free version. However, remember that the most advanced features may cost a lot of money. All solutions include advanced features like social sharing and search engine optimization. Compared to other e-commerce platform systems, Shopify has a wide variety of themes. Using the sophisticated e-commerce site builder, you may start an online business without programming experience.
5. Drupal
Drupal has the potential to be a content management system (CMS). The most important thing to remember is that it's free to use. More than 14 percent of the world's top 10,000 websites rely on it for their backend infrastructure. A wide range of blogs can be created with Drupal, including personal, government, and business websites. Drupal's advantages can only be appreciated by first grasping its fundamentals.
Having a basic understanding of how Drupal operates is essential. You'll need a username and password for your primary administrator account. Choosing a password that can be used for other purposes, such as notifications, is recommended. When the user's account has been set up, you will need to change the time, date, and language settings. Based on your company's needs, additional modules may be necessary.
Conclusion
At AE ADS Dubai, we recommend that anyone who wants to build a stunning website without effort using one of the CMS systems mentioned above. You won't be able to perfect them all in practice, but if you focus on a handful, you may be able to outperform the competition. You can choose from diverse options depending on your company's size and budget. It's important to remember, though, that a good CMS will be easy to navigate.