Top Digital Marketing Trends For 2023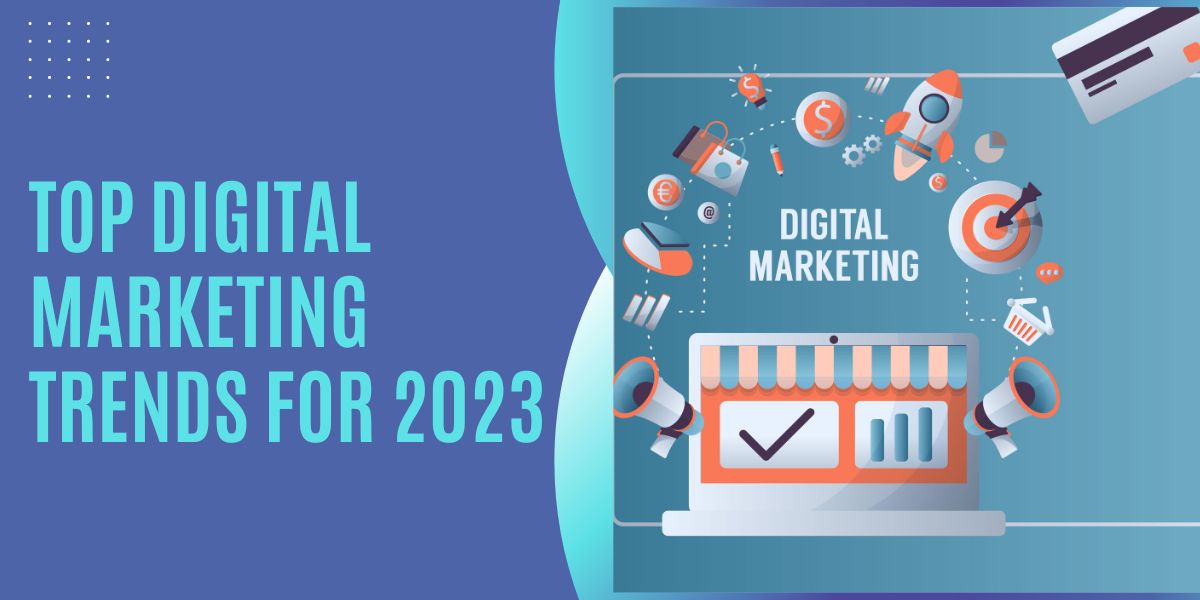 Trends and strategies in digital marketing are ever-evolving; before you know it, a whole new set of digital marketing methods will emerge. Every marketer, if they could go back in time, would visit the coming year in search of digital marketing trends. 
Since we still live in the age of forecasts, we will have to make do with a thesis about what digital marketing in 2023 might be like based on our best guesses. Hold on tight because we're going to take a trip into the future to examine the most promising developments in digital marketing in 2023.
What We Can Anticipate to See More of in 2023 from Digital Marketing
These are the eight most important developments in digital advertising to keep an eye on in 2023:
1. The Metaverse
Meta (Facebook) is the existing proprietor of the Metaverse, a digital world within a world. It's a previously uncharted part of the digital cosmos where various forms of virtual and augmented reality merge to provide a shared experience. The concept of digital identity in a new future where you may do anything looks very similar to that of video games.
Social trading is a viable possibility now that there is a web of realities/virtual worlds where space exists practically everywhere. It is why modern online marketers have developed a novel approach to digital advertising by including video.
2. NFTs
Tokens that can be traded in the digital economy. A unique token is attached to each NFT, so you know it's the real deal, not someone else's copy. NFTs are used in the creative and technological sectors and the business world.
As a promotional tool, NFTs are distributed via a lottery system. One such promotion is the giveaway of a free NFT & 200,000 Marriott Bonvoy points. Marriott, Adidas, and other high-end businesses have used digital marketing. The potential for NFTs as a promotional tool to be expanded is enormous.
3. Cryptocurrency
Cryptocurrency is among the most popular topics in the Instagram edition of the financial sector. No one predicted it would be that successful when it first hit the market, but once it did, it essentially buried the competitors. 
Due to the enormous potential returns, there are currently around 10 to 12 million active crypto investors across India. Millennials, who see cryptocurrency as excellent and ahead of their time, are driving the market for this asset class. 
Platforms for buying and selling cryptocurrencies use the public's fascination with free cryptocurrency to drum up market interest and attract potential investors. In the same way, we may use Google Pay to buy groceries; cryptocurrency can purchase other essentials. The digital marketing landscape will reach new heights in 2023.
4. Business in the Social Network
China has built a multibillion-dollar industry around social commerce, but India is just gaining its feet wet in this space. Marketing campaigns for products are broadcast live on social media, with quick sales available to viewers.
Companies can use Instagram's Shop function to integrate a Show Now button into their live videos. Social commerce, one of the top 2022 digital marketing trends, has shortened the time customers need to view an ad to make a purchase.
5. Voice-Based Search
55% of teenagers surveyed in a recent study said they regularly used voice search. The widespread technological use among today's youngsters indicates that voice search will grow in popularity over the next several years.
The use of voice searches has increased since it became standard on most smartphones in 2014. Twenty percent of American families have already invested in smart speakers like the Amazon Echo or Google Home. The fact that voice-controlled devices are becoming increasingly commonplace is promising for the future of this innovative method of operation.
Google has claimed again that their voice search is 95 percent accurate. Improvements in search precision have made voice searches easier to use. In addition, it's more convenient to use your voice to get results and more precise to fit what you ask for, making the process more engaging and personalized.
It is also anticipated that by 2022, a voice search will perform 50% of all online purchases. There is a staggering $40 billion in the unrealized potential for digital marketers. Many motivating factors make it imperative to optimize your website for voice search.
6. Programmatic Ads
The acquisition of digital advertisements now commonly makes use of programmatic ad buying. On the other hand, automated buying is the practice of purchasing advertisements by algorithms and machines instead of human participation.
With the use of AI in programmatic advertising, brands may reach their target audience with more precision. Long-term, automation helps with both conversion rates and customer acquisition expenses. 
Real-time bidding is a programmatic ad purchasing approach that allows for more exact and rapid targeting, and it may be used to buy and sell ads individually.
7. Email marketing that is both automated and personalized
Sending out emails to customers regularly in response to specific events or schedules is what automated email marketing is all about. When it comes to online advertising, email has consistently been the safest option. Sending out promotional emails is a terrific method to let clients know about your company's latest achievements or future sales.
Most people no longer interact with promotional emails because of the widespread adoption of bulk email strategies. Recapturing your clients' attention and creating an active customer base can be accomplished through personalized emails.
8. Use of Artificial Intelligence in Advertising
There have been many talks lately about how artificial intelligence (AI) will eventually control every facet of human life. About 60% of online users can have their inquiries answered across several platforms by employing an AI Chabot.
The content we consume on social networks is heavily infused with AI to maintain our attention for longer. As a result, digital marketers have a great chance to profit from this cutting-edge technology, which is predicted to be valued at $190 billion by 2025.
An AI algorithm can learn the best practices in the domain or topic it is studying by evaluating massive amounts of data. And then, once the AI has learned what works best, the programmers can drastically alter the outcomes by allowing the AI to use those ways.
Be One Step Ahead of the Competition
Sharing one's experiences is a digital marketing trend that can lead to better products, more effective advertising and promotion, and a more satisfying buying experience. Knowing the current state of digital marketing and anticipating its future state is crucial for staying ahead of the competition as we enter the following calendar year.