Trends in Digital Marketing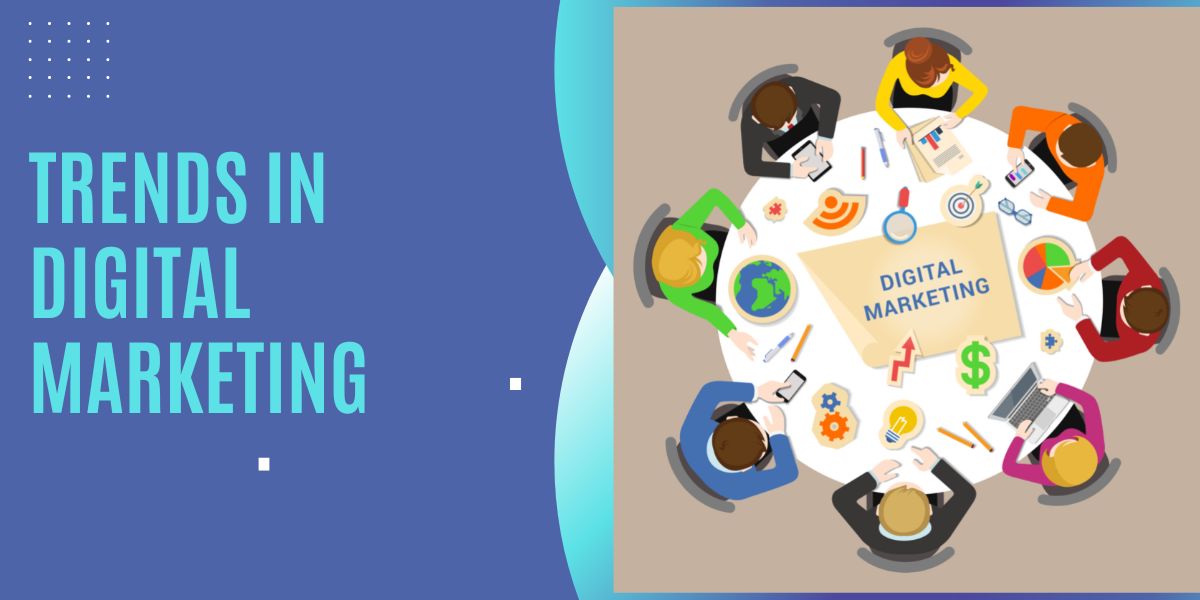 Digital marketing encompasses all forms of promotion in the digital realm. That's the simplest explanation of the buzzword sweeping the corporate world. Businesses can reach a global customer base without breaking the bank by using digital marketing strategies. What's the outcome? 
Those familiar with digital marketing know that it is a rapidly evolving and unpredictable industry. It is constantly changing. What was effective a few months ago may not be as valuable now.
Why should a company use digital marketing?
What we now call "digital marketing" refers to any method of reaching out to customers that involve electronic communication over the Internet. Some of the most common ways to get in touch with clients are through your company's website, social media accounts (Facebook, Instagram, Twitter, YouTube, and Snapchat), emails, blogs, and newsletters. All of these activities are included in digital marketing.
With digital marketing, companies of all sizes have the same shot at success. Numerous opportunities to interact with existing customers and find new ones are available. In the business world today, it is essential because it yields high profits with minimal outlay. Let's talk about the numerous digital marketing trends that will be crucial to the future success of organizations.
Top 10 Trends in Digital Marketing 2022
1. SEO
You should prioritize SEO (Search Engine Optimization) as a kind of digital marketing for your company. Search engine optimization (SEO) is the practice of elevating the visibility of a website or an article in the results returned by search engines like Google and Bing. Using this method, you will emphasize words and phrases in your content currently trending on search engines like Google and Bing. Sites like these, as well as blog posts and infographics, are all improved by SEO.
Suppose you run a chocolate shop hoping to attract new customers through search engine optimization. In that case, you should emphasize phrases like "buy chocolate," "purchase chocolate online," "homemade chocolate," and "great chocolate online" throughout your content. Your blog's or website's position on the Search Engine Results Pages (SERPs) depends on how often these keywords appear and how well-written your material is. A higher place is preferable for commercial purposes.
It is necessary to use specific terms, but moderation is also required. Keyword stuffing can make your writing sound forced and reduce the credibility of your work. If you want search engine optimization to help, you must keep your content's quality high.
An estimated 81% of customers undertake online research before making a purchase. Investing in search engine optimization (SEO) should be a top concern for every organization to expand their customer base and increase sales online.
2. PPC (Pay Per Click) Marketing 
With PPC (Pay Per Click) advertising, you only pay when your ad is clicked. PPC can be thought of as "SEO for money." Google Ads is one popular form of pay-per-click advertising. You may now buy higher placement on Google's search engine results pages. Other channels include Twitter and LinkedIn advertising campaigns and sponsored posts.
To some extent, pay-per-click (PPC) advertising is the same as search engine marketing (SEM), but it also encompasses display and affiliate marketing.
3. Content marketing
To increase engagement and sales, businesses adopt a digital marketing strategy called "content marketing." Blogs, social media posts, videos, infographics, podcasts, and other media are valid formats for this content. There is a strong emphasis on search engine optimization (SEO) and user-friendliness, which generates organic growth in the audience.
To ensure the success of your content marketing efforts, you must focus on your intended audience. Aside from driving more business, high-quality content also increases brand credibility, fan loyalty, and consumer safety. The content of a digital marketing campaign is crucial across all platforms. Without company-centric content, marketing strategies like search engine optimization, paid search advertising, email marketing, and pay-per-click won't work.
4. Marketing for Search Engines (SEM)
Search engine marketing (SEM) is the monetized counterpart to search engine optimization (SEO). Ads on search engine results pages (SERPs) can be purchased with the use of SEM. Search engine marketing relies heavily on link building between organic results and paid advertisements.
Paid search results on Google stand out clearly. There is a tiny "Ad" label at the URL's start, and the search engine giant prioritizes these pages. Your website's traffic and CTR can both benefit from a combination of search engine optimization (SEO) and paid advertising (SEM) (CTR).
5. Marketing Using Social Media 
Social media marketing is essential for any successful business in today's digitally-focused marketplace. Increasing brand awareness and driving visitors to your website and social media pages are two of the many benefits of social media marketing.
These are the platforms you should be utilizing in your social media advertising:
Facebook

Twitter

Instagram

YouTube

LinkedIn

Snapchat

Pinterest
6. Marketing using Influencers
One emerging area of internet advertising is called "influencer marketing." Uses influencers with sizeable online fan bases. Companies can hire these influencers to spread the word about their goods and services.
The influencer acts as a representative for your company. They can write a blog post about your company or include a video review of your product on their website to promote your company. 
There is no requirement to employ famous people for influencer marketing, yet many large companies do so. A social media influencer with a few thousand dedicated fans can do the trick if you have a small company. Effective influencer marketing can have far-reaching consequences.
7. Marketing using Electronic Mail
Email marketing promotes a firm using electronic messages sent to an existing customer base. Using a newsletter is a great strategy to expand your email marketing. When visitors visit your website, you should encourage them to sign up for your newsletter. Then you may keep them up-to-date on your products and services.
Successful email marketing campaigns rely on a list of subscribers who have opted in because of the quality of the content you have provided rather than any financial incentive the business offers. Users who subscribe on their own accord are most likely to interact with your company, so focus on reaching out to them. Brand recognition, consumer loyalty, and unfiltered input are all achievable with email marketing.
8. Mobile Marketing
Smartphones are the most frequently used electronic device today. The mobile device is a one-stop shop for all of their needs. It would be a waste not to use this to reach out to prospective customers.
To reach mobile users, businesses can use either apps or text messages. These days, more and more people are downloading apps on their mobile devices instead of visiting a website. Your app may attract more users than your website does. Because of this, it is crucial to design a simple, easy-to-navigate, and appealing mobile app. The software also can send regular push alerts. They will continue to use your product if you do this. Meanwhile, text messages can alert customers to price reductions and discount opportunities. Those who don't have access to a smartphone can also be targeted.
9. Affiliate Marketing
Affiliate marketing is a form of online advertising in which one company endorses another's product in exchange for a commission. Essentially, affiliate marketers sell other people's items and receive a commission when a lead is generated.
Working with affiliates might assist you in broadening your reach. It can also make your marketing efforts look more organic. 
10. Marketing in the Age of Augmented and Virtual Reality
It's also worth keeping an eye out for the emerging digital marketing field that uses AR and VR technologies. This strategy is vital to using these emerging technological areas to win over customers. AR and VR marketing is pricey at present; one should only go for it if they have the funds and something extraordinary to offer. 
As we continue to go towards digitization, the scope of digital marketing will only increase. Regarding digital marketing, most approaches are interconnected and mutually dependent. A business must determine which one meets its long-term purpose best and strategize accordingly.