What is Social Media Marketing? Why is Social Media Marketing Important Today?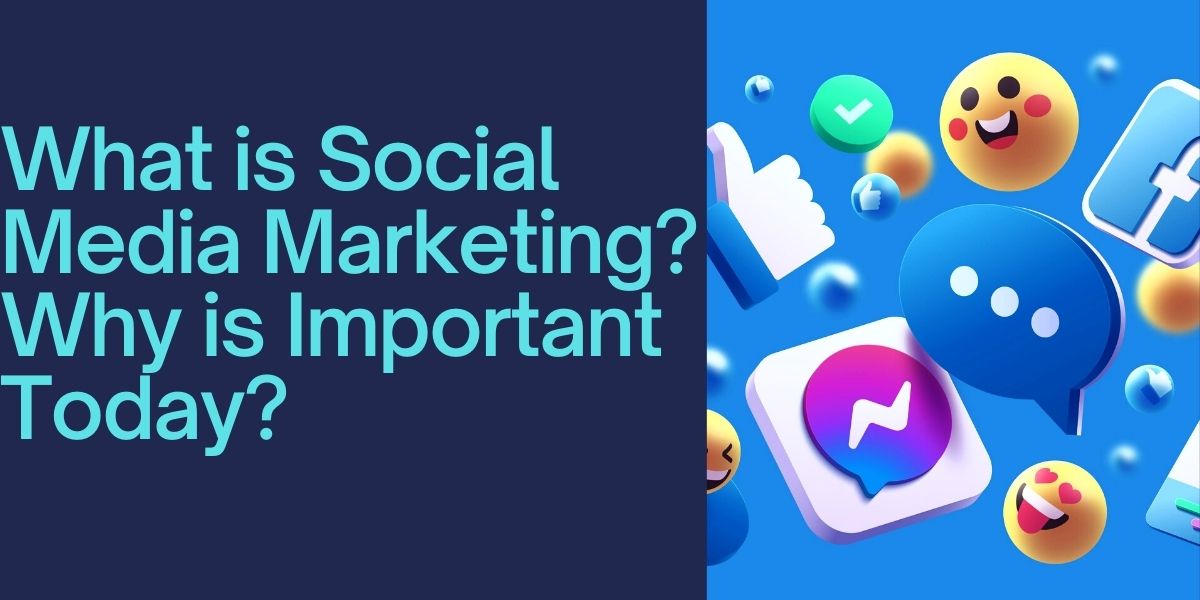 Can you remember when there was little to no communication between companies and their customers? In what ways did you find it challenging to evaluate your brand's marketing efforts? Social media has developed over time. 
Direct interaction with customers is more efficient, saving time and money for growing businesses. As companies move online, they have a heightened appreciation for social media marketing.
The time has come for businesses that have debated whether to increase spending on social media advertising. Companies that follow the rules avoid being left in the dust. If you're still on the fence, keep reading.
Exactly what does social media advertising entail?
SMM (Social Media Marketing), a subset of digital marketing, leverages the reach and popularity of social media platforms like Facebook, Twitter, and YouTube to advance a business's branding and product awareness goals. 
However, creating a company's social media accounts and posting whenever you like is only part of the story. Adapting a plan with measurable goals is essential for social media marketing:
It's vital to maintain updated, optimized profiles.

Share the photos, videos, stories, and live streams that characterize your company and speak to your target market.

Monitoring your online reputation and engaging with those who express interest in or support you by commenting, sharing, or liking your content.

Engage with the people who follow and use your brand by observing and interacting with them.

In addition, social media marketing encompasses paid social media advertising, in which a company pays to promote itself to many people who fit a specific demographic.
The Importance of Social Media Marketing for Your Company in 2022
1. Social media can increase brand recognition.
Social media for your business has several benefits, including increased brand awareness and more accessible customer service. You need to showcase who you are and what you offer, and social media is a great way to do that.
Your company's history, including its triumphs and setbacks, can be effectively communicated via social media. You'll become more well-known and have more sway over others as you maintain your online social interactions.
2. It Helps you reach more people on a budget.
Social media sites like Facebook and Twitter can help you reach a much larger audience and is an effective digital marketing technique. You may use the many social media advertising options when marketing your products on a tight budget.
Marketing your company in online communities doesn't require you to spend money on promotional materials. You can accomplish whatever you need to do with marketing with only the free resources offered to you.
3. Social media can help you learn about the competition.
You may be interested in learning more about the features that set your competitors apart and the steps they take to grow their businesses. Companies of all sizes are utilizing social media. Accessing a company's profile on one of those sites makes it easy to research its methods to bring in new clients.
You may observe the content these companies publish and the responses it receives. As a savvy business owner, you'll use what you learn from large organizations to improve your marketing strategies and attract a broader customer base.
4. Social media helps you understand your customers better.
Increase brand awareness and learn more about your customers' purchase patterns with the help of social media. Social media marketing, mainly social media listening strategies, is essential to discover what your customers appreciate and don't like about your item and organization.
As a marketer, you must better understand your target demographic. After you have this data, you can only start developing your digital marketing strategy to win over more clients.
Before establishing rapport with a client, you must know what matters to them. Using a social network to connect with your product's target audience is a powerful marketing strategy.
5. Social Media Boosts ROI
Social media marketing helps you get a better return on your investment without breaking the bank on advertisements. The costs of advertising on social media sites like Facebook and Twitter are low, and with proper execution, you can rapidly and effectively reach a massive audience.
Targeted social media ads might help you expand your audience and minimize advertising expenses. Many people spend so much time on social media that it stands to reason that some of them will notice your ads and get curious about what you have to offer. Those who have their interest peaked may end up becoming regulars.
6. Social media marketing boosts product sales.
You may use social media to promote your business, whether big or small. Simple albums of related photos of your goods posted on social media like Facebook or Instagram can do wonders for your brand's visibility. You can attract your ideal clientele by placing ads next to images.
7. Social media keeps your clientele up-to-date.
Undoubtedly, you want your customers to know what's happening in your organization. Notifications are something that many companies have learned to master and use whenever they:
Launch a brand-new item.

Boost the number of services they provide.

Exhibit new products.
Customers will be so excited about a major company announcing that they want to spread the word, increasing the likelihood that the story will go viral.
8. Social media emphasizes providing excellent customer service.
People are using social media as a fast way to get answers to their questions. Numerous companies now use social media to communicate with their customers constantly. An excellent social media customer care strategy can help you connect with potential customers and turn them into loyal patrons.
Putting money into customer service is all that's needed. Customers who have queries about your product or service can expect speedy and helpful responses from you.
9. Social media platforms encourage linking.
If you create engaging material for social media or publish a particularly compelling blog post on one of these sites, it's likely to become viral.
Those that find value in what you've written may be motivated to create their materials, at which point they may choose to include a link back to your post. When people click that link, it boosts your site's traffic and, consequently, its position in search results.
10. It Helps Drive More Visitors to Your Site
Promoting your website on social media would help get more visitors to visit. Admittedly, SEs are fantastic, but if you only use them, you'll miss out on a lot of traffic. There may be a wider variety of visitors coming via social media sites.
Social media platforms are great for increasing website traffic, but it's essential to consider your posts' content and the frequency with which you share it. You don't want to be the annoying marketer who drives customers away.
To drive people to your website or draw more notice to your brand, you might use a "social media marketing strategy." Utilizing SMM, increasing natural website visitors is now a breeze. Now is the moment to begin promoting your brand on social media if you haven't already.
Conclusions Regarding the Significance of Social Media Marketing
Marketing is often cited as one of the most crucial components of a successful business strategy. Businesses of all sizes invest millions to get the services of well-known marketing firms. 
Sites like Twitter, LinkedIn, Facebook, and Instagram attract a massive audience and serve as vital nodes in the marketing ecosystem. Managing your company using popular social media sites is a great idea.
Contact AE ADS Dubai to learn more about our social media marketing services.