How To Get More Traffic on Your Website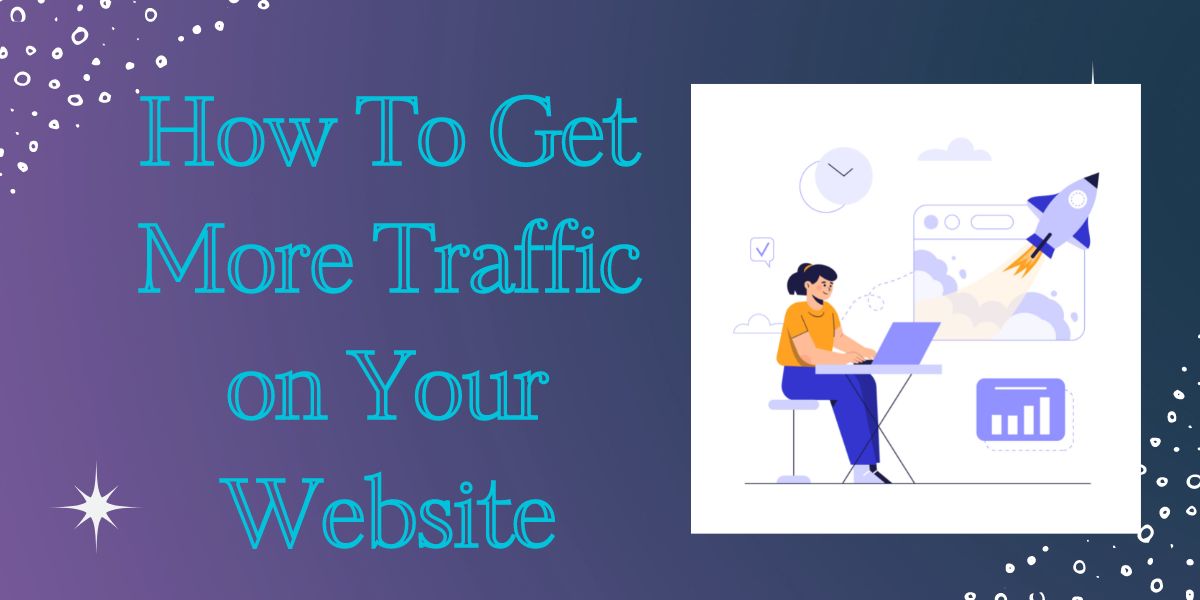 In today's technological era, establishing a website is crucial to the success of any small business. It's the basis for expanding your company's reach in the digital world. After all, with the right resources, you can learn a lot about the individuals who visit your site and convert it into a proponent, partner, or client. 
If even one of these occurs, we can consider the mission accomplished. The question now is how to attract people to your website. If you're looking for ways to boost traffic to your website, try the following.
1. Use keywords to enhance your content.
SEO is the technique of enhancing the visibility of a website in search results by strategically using keywords related to the website's subject matter. It's common for business contacts to begin with a simple online search. Finding more visitors to your website is simplified when you know the search terms they use to find it. 
You may have a unique vocabulary, such as the names of brands or products. They can also be features or advantages that make you stand out from the competition, such as being "all-natural" or offering free shipping.
Google Analytics shows people's search phrases to locate your website, so you can use those terms to improve your SEO efforts. Check out your rivals' words on their sites, social media, and email campaigns.
Google Search Console would be another free application you can use to track your website's visibility in search results, top-referring search phrases, and clickthrough rates. To get the most out of SEO, consider the following advice:
Improve your site's discoverability.
Make sure search engines such as Google & Bing can easily find your site by including detailed descriptions of your products and services and their benefits. Build a catchy, keyword-rich URL for your website as well. Your website's development process can include the incorporation of an SEO title.
Use your's website content to your advantage. Written material such as blog posts, articles, and audience testimonials all boost your website's search engine rankings and drive more traffic.
Adjust how the images look to make the most impact.
Images and videos for mobile devices help improve your Google rating, even though search engines are better at indexing text than visual content. To help search engines better know the content of your website, a brief alt-text description must accompany every image.
2. Make sure to make specific landing pages
If you want users to stay on your site and interact with your brand, send them to a landing page customized to their needs. Use visitor data to craft pages that speak directly to your audience. It could be a tailored offer responding to a user's recent activity, such as new product features or blog entries they've been reading.
Incorporate this targeted communication into traditional marketing by assigning tags to your contacts. Tagging is a label applied to a user that can be used to tailor the experience they have on your site.
3. Make material that others will want to read.
Creating engaging, helpful material that addresses a specific need or query is a terrific method to attract visitors to your site. It's a great way to establish your site as a leader in your field and attract more customers.
SEO can also benefit from creating original, engaging, and informative content. As you improve your site's SEO and attract more visitors, your position in SERPs will rise. In addition, attracting new visitors and retaining the ones you already have can be facilitated by regularly publishing relevant and valuable material. 
It is because people will have confidence in the usefulness and trustworthiness of your material. Content should be simple to read and understand. For instance, the subheadings on a website make it easier for the reader to locate the specific piece of information they need.
4. Consider placing online advertisements to draw attention to your website.
You can always see online advertisements for everything from online classes to eyeglasses. Digital or banner advertisements are created to direct viewers to a particular website or landing page tailored to a marketing campaign. 
These advertisements are effective because they may be strategically placed on websites and blogs frequented by a target demographic, such as those interested in home improvement or the outdoors.
Digital ads on Facebook and Instagram can narrowly target users based on demographic information such as age, gender, and interest or educational level. You may quickly create and manage the advertising that identifies people in the marketplace with something you offer if you collect data on the behavior of those who visit your websites, such as which web pages or products they saw and when.
If you need help identifying where to run your advertisements and for how long, as well as developing an overall paid media plan, you can employ a consultant or an agency. The expertise of a specialist in this subject will also be invaluable when determining realistic goals for a campaign and developing strategies to achieve those goals.
5. Improve your standing in local search results.
Ensure your site takes advantage of Google's local algorithm, which prioritizes local results. If your website ranks highly in local search results, people looking for the kind of specialized assistance you provide will be able to find it. Enter "air conditioning repair in Dubai" into a search engine if you live in that area and need help fixing your AC.
Improving your ranking in local search results allows you to attract customers in your immediate neighborhood. As a bonus, customers can share their positive experiences with your company by submitting a testimonial on your website.
6. Share your website in email newsletters.
Email marketing is a tried-and-true method for increasing site visits. One effective way of reaching out to an audience and providing helpful information while also encouraging them to visit particular pages on your site is via email. Marketers typically use one of two primary approaches when sending out email promotions:
Promotional content, such as discounts, and upcoming events, can be included in email newsletters. Users might be directed to your webpage to reap the benefits of a deal or read an article. Though these may bring in a small number of new visitors, however can be an effective strategy to encourage repeat business from your most valuable customers: those who are already familiar with your brand.
Email marketing campaigns can feature targeted sales or events. For instance, the store may host a wine taster or a trunk exhibition, and you could advertise both events. Email marketing campaigns can also draw attention to recently uploaded videos and freshly released products or services.
In both circumstances, you can send specific copies of the newsletter or offer particular subsets of your email list based on data. The people you're trying to reach will likely question why you didn't launch an email marketing campaign sooner once they see the results you can obtain for their business.
7. Increase the number of backlinks from reputable sites.
Backlinks, also known as inbound links or backlinks, are links posted on external sites which go back to a particular webpage on your domain. High-quality links pointing back to your site could improve your search engine rankings. It is because authoritative sites have a high number of backlinks, which tells search engines that your site is well-liked by its audience. A backlink from something other than a credible source could help your rankings.
Consider these additional benefits of backlinks for your company:
More people will visit your site if it appears higher in search engine results.

The presence of backlinks can bolster customers' confidence.

Getting backlinks can help spread the word about your business.
8. Interact with your target audience on social media.
Some articles, photographs, and promotions on your website may also be posted on your social media accounts. Do you know that social media can also increase your website's traffic and boost your message's reach? For instance, you could announce a sale via social media to increase visitors to your online store.
The trick is picking a social platform where your message will have the most impact and where you can exert the most control. To a large extent, this will be determined by the nature of your business and the customers you're trying to attract. For instance, promoting a webinar or white paper to an expert audience might do well on LinkedIn, whereas product photos would be better suited to Instagram.
Suppose you want people to take action after seeing your social media post direct them to specific landing sites. As your site serves a diverse audience, it is essential to target a particular subset of that audience on each landing page. If you want more people to visit your website but need more ideas, consider beefing up your social media profiles.
9. Collaborate with influential people.
Building connections with key opinion leaders in your field is a great way to propel your company forward. There are numerous approaches to this:
Spread the word about your business to the general audience.

Solicit their feedback on a potential new venture.

Make suggestions for articles you can write to publish over their byline or yours with connections to your site.

It can assist in establishing your company's credibility and turn website visitors into buyers if they see that you're associated with famous figures that your target demographic trusts.
10. Participate actively in local affairs
Participating in discussions with your target audience (consumers, influencers, competitors, and thought leaders) can boost your company's online profile. People may feel more compelled to check out your website as a result.
Defining your brand can be as simple as posting an influencer's LinkedIn posting or as complex as responding to a review on Yelp. Be aware of the importance of interaction while planning how to increase website visits. Businesses often use polls and contests to interact with their local and online customers.
11. Revamp PR to boost public opinion
If you have, you may have questioned, "How can I increase traffic to my website?" Boosting your company to target clients and collaborators is as easy as launching a PR campaign.
Credibility and brand awareness can be gained through several forms of publicity, such as press releases, TV and radio appearances, and print features. In addition, many of these PR initiatives can be disseminated via social media to keep driving new visitors to the site.